CHI Palm Frequently Asked Questions
CHI Palm
The CHI Palm is $695.00
This includes: CHI Palm, Quick Start Guide, Charging Cable, and Battery
What are the settings?
Our settings are Acute (left), Balance (middle), and Deep Calm (right)
The Balance setting (middle button): is the primary signal to use because it is the most effective at calming inflamed cells to relieve pain and accelerate recovery.
The Acute setting (first button): includes the higher octane of frequencies measured from the heart. It tend to enhance intuition and helps people see more deeply into the causes behind discomforts, to "think outside the box". For deep injuries, bruises, and recent injuries- use Acute for the first 10 minutes and switch to Balance.
The Deep Calm setting (third button): It combines Balance with very low frequency signals that awaken the deep unconscious reactive programming. This is especially useful for what might be called psychosomatic or mind/body conditions because it brings the deep unconscious closer to conscious awareness while enhancing the fluidity of conscious awareness. This is also wonderful to use for deep relation, sleep and emotional turbulence.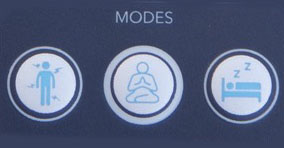 What is the best Protocol to use?
Put it where it hurts! Twenty minutes, twice a day. Trust your body
Over here at CHI Institute, we are not medical professionals. Nothing that we say can or should be used to treat, diagnose , or cure any medical illnesses.
Can the CHI Palm be used with other products/therapies?
Of course! The CHI Palm is 100% non-invasive and can be used with other therapies. Our only precautions is if you have a pacemaker, please put the device at least 6 inches away as it has a magnet. As well, if you are known to have blood clots in your legs, avoid placing the device directly on your legs.
Can I use this on all members of my family?
YES! The CHI Palm is FDA listed, 100% drug free and non-invasive. We encourage you to use it on every family member, even the dogs and cats!
How is this different than the Infratonic 9?
It is similar to the Infratonic 9 but has many more advances in the technology. More powerful stimulation, lower frequencies, and more control. The Infratonic 9 got an amazing upgrade.
What happened to the Infratonic?
The CHI Palm is an Infratonic 11! We just like the name CHI Palm, don't you?
What type of battery does the CHI Palm take?
The CHI Palm takes a Lithium-Ion battery with a "button top". They can be purchased online! One battery will come with your CHI Palm. We recommend batteries with integral protection chip to provide maximum safety. Length should be between 65 mm and 69 mm.
What happened to the timer?
For those who want to time how long the CHI Palm is on a client, we suggest a separate timer outside the client room to avoid interrupting the session. Also, here you want to provide 5 to 10 minutes to each several points on your body, we suggest a timer that can be set up to beep at intervals to remind you to move to the next point. A wide variety of timers are available to serve different strategies.
What happened to the Equitonic 9?
We still have some Equitonic 9s for sale! Our Palm has the amazing ability to change the intensity of the frequency and the signals are more tuned to each frequency.
When will the Trade-Up Program begin?
We have halted the trade-up program as we do not have enough CHI Palms in stock! We are currently revamping the program and will resume it once our stock is replenished.
Can I take my CHI Palm on the plane?
Yes! With Lithium Ion batteries, TSA asks that extra batteries be carried in your carry on bag. We also suggest taking the CHI Palm with you to your seat because it is so effective at relieving a wide range of discomforts during your flight.