Hydroxychloroquine Reduces Death Rate for COVID-19
There has been some debate on the effects of Hydroxychloroquine (HCQ) when applied to COVID-19 death rate in hospitalized patients. So often, debates ignore the data. So, here is the US data for most of the deaths of Americans. It shows that, since early April, the death rate was strongly influenced by HCQ: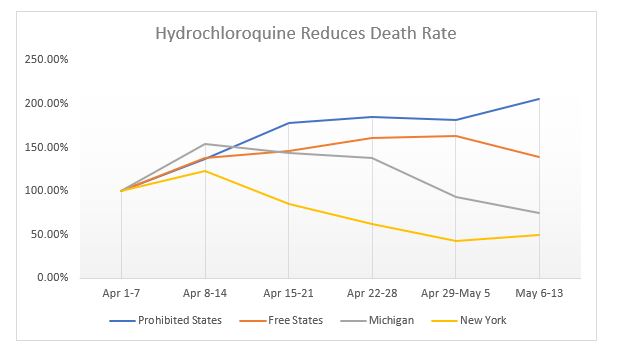 This graph is based on the data published on www.covidtracking.com  The states prohibited from using COQ according to https://www.lupus.org were Arizona, Georgia, Idaho, Kentucky, Minnesota, Nevada, Rhode Island, Texas, Utah, and Virginia. Two of the states with the highest death rates, New York and Michigan, originally prohibited use of Hydroxychloroquine with COVID-19 patients. However on March 24 New York ordered HCQ from the White House and started testing.  https://www.youtube.com/watch?v=c86sszK2gsA (2min)
On April 4, Michigan started testing.  Thus, Michigan was about 10 days behind New York. On April 5, New York ordered and received a large quantity of HCQ to begin HCQ among COVID-19 patients throughout New York hospitals. As can plainly be seen, those states that continue to prohibit COQ for COVID have about 3 times the normalized death rate as the states that used COQ more aggressively, New York and Michigan. If it had been applied in all states when New York first had evidence that it worked from France, China, and anecdotal New York hospitals, and started administering it widely, we might have saved tens of thousands of Americans. We don't know what the results will be when COQ is used universally with seriously ill COVID-19 patients, and with future outbreaks of other novel coronaviruses. COQ is likely the reason that the thousands of beds and thousands of ventilators provided by the Feds were not used in New York.
Motivation: The reason we started studying the statistics about repression of HCQ by the states was because of this report we saw on the web:
https://twitter.com/VincentCrypt46/status/1261122553461923840 (2min)
On watching this 2 minute video, we asked, "Has repression of HCQ increased death rate?" The above research indicates that many of the deaths in the USA and around the world might have been prevented if HCQ were not repressed by the media and by politicians.