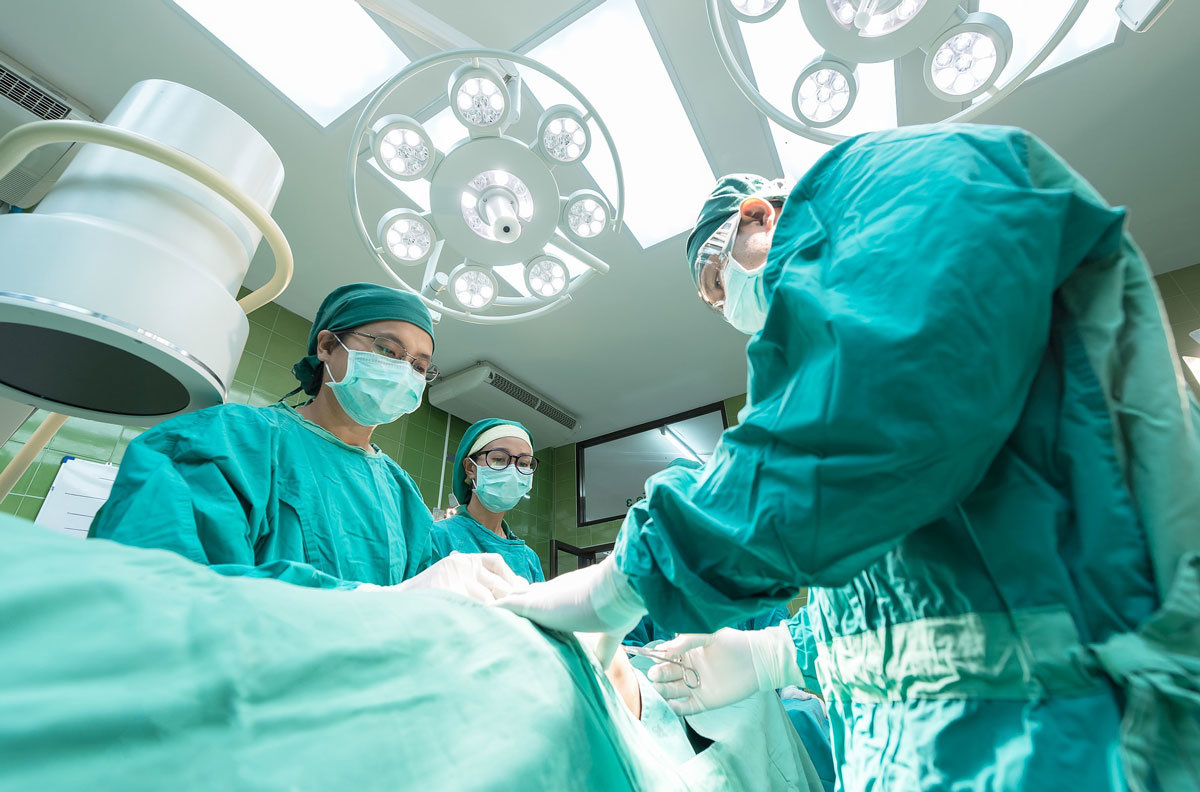 Improving the Surgery Experience with the Infratonic 9
It's understandable to feel anxious before surgery. It's an invasive procedure that in many ways seems unnatural and overwhelming. Even if you know an operation is going to restore your health or even save your life, it's difficult not to dread the recovery period in which it's typical to experience a significant amount of pain and fatigue. You're told by the surgeon you may not be able to work or engage in regular life activities for some time, at least not at full capacity. No matter how you slice it, the prospect of surgery creates anxiety.
Here's a simple way to prepare for surgery that may reduce some of that pre-surgery anxiety. It's called Infratonic therapy, a patented, FDA-listed sound wave therapy. It involves saturating the body's tissues with a series of "chaotic" or unpredictable Infratonic sound waves that dissolve cellular trauma and inflammation and accelerate healing. The Infratonic 9 is a handheld device that emits these low-frequency sound waves, mostly within the alpha range, the range most often associated with the calming effects of meditation and relaxation. It effectively increases circulation, calms the system, and brings the cells, brain, and nervous system into a state of increased cooperation, all of which tend to improve surgical outcomes.
Infratonic therapy has changed the surgery experience for countless people, making their recovery processes more comfortable and even making their surgeries more successful. In this blog post, I'm going to share the inspiring stories of Debra and Jennifer, two of our users who had smoother surgery recovery processes because of the Infratonic technology.
Debra, a neuromuscular therapist, knew about the Infratonic technology long before her recent hysterectomy. Years ago, she became enchanted with it and began sleeping with four Infratonics all over her body. She's convinced they helped her overcome some longstanding fibromyalgia. Debra calls them her "magic machines." She's seen the Infratonic do things conventional wisdom says should not be possible.
When her daughter had a severe soccer injury that broke her tibia and fibula and dislocated every ligament in her ankle, she had to undergo rapid surgery. Debra placed her four Infratonics on the site of the injury and kept them there for three days. On the third day, during a follow-up appointment, the doctor walked in, looked at the injury, and asked if it had been three months. "I've never seen anything like it. There's no swelling, no black and blue," he said. Within a month, she was walking with a tennis shoe on and was able to attend her senior prom.
Earlier this year, it was Debra's turn to experience Infratonic-enhanced surgery. Hers would be in the form of a combined hysterectomy and posterior prolapsed rectum repair. It was a serious surgery, to say the least. She started using her Infratonics religiously in the days leading up to the surgery to prepare her body for the big event. She understood that if her tissues were more relaxed, if her cells were healthier and stronger, they would be in a better position to undergo surgery, and to heal afterward. This would make for an easier and more effective surgery.
I spoke with Debra in the time leading up to her surgery and in the time following her surgery. It was inspiring to hear that she was using her Infratonics practically 24/7. She was truly dedicated to giving her cells the assistance they needed in the form of Infratonic signals. "I can't imagine the position I would be in without these things running on my body all the time," she said. "Everybody needs this because we all have inflammation."
Debra's efforts paid off. She was released from the doctor several weeks sooner than expected. After being told she wouldn't be able to do any kind of work for two months following surgery, she went back to work as a neuromuscular therapist, a very physically demanding job, the second week after surgery and began working and within three weeks was able to work as much as five and a half hours in a single day!
Keep in mind that Debra used her Infratonics morning, noon, and night. We of course cannot guarantee that anyone will experience the same remarkable results. But her story is an important testimony to the power of Infratonic therapy.
Another customer of ours, Jennifer, used Infratonic sound waves to reduce severe pain following foot surgery. In her own words, shortly after surgery, this was her experience with the Mobile Magic, one of the older models of the Infratonic:
"Before turning it on, I could feel every specific part of my foot that hurt. Each place they cut, each separate pain. It was unbearable. All I wanted was for my entire foot to be numb. Also, I could not relax. Immediately after switching the Mobile Magic on two feet away from my bed, the pain vanished and I was able to stay relaxed and I slept all night long, only waking up when it was time for more pain pills! Amazing!"
Several weeks later, the bones in her foot were all healed but she still felt severe pain when she touched her scar tissue. This was restricting her range of motion and keeping her foot swollen and painful. The Mobile Magic was helping but she asked if she could try the Infratonic 9, so we met her at a local Starbucks. Her following comments clearly illustrate the difference between the Mobile Magic and the Infratonic 9:
"Before we started applying the Infratonic 9, the incisions were angry and purple. I couldn't touch them because of the pain. Now I can feel my skin and the scar tissue when I touch it. This is the first time I've been able to touch it. This is amazing. OK. Let me try pushing my toe back. Oh my God! I can bend it all the way back! And it doesn't hurt. How long have we had the Infratonic 9 on it? 15 minutes? The sensitivity to pain has gone. The angry purple, inflamed look disappeared as well. This Infratonic 9 is healing me.
Wow! I just grabbed my toes and I went smush, smush, smush. At my appointment two days ago, my doctor expected me to be able to smush my toes. The most I had been able to do up until fifteen minutes ago was just brush the tops and cause myself pain. Well, after this fifteen minutes with the Infratonic 9, I can smush the heck out of them. There is no way I would have been able to do this with the Mobile Magic."
She continued using the Infratonic 9 each day. Four days later, she had this to say: "I feel amazing! I feel lighter, more joyful, less emotional baggage! And physically I feel great. My feet are much less swollen, my toes no longer hurt when I walk, they don't hurt at work being down for eight hours (all this did hurt on Wednesday before we met). My toes are pink in the morning and I am able to smush the heck out of all my toes and scars. I can wear regular shoes now (just happened today!). I can bend my big toe very far. I sleep amazingly well and wake up rested."
Studies show that the average person will undergo two surgeries in their lifetime. So, this is an issue that will affect most people at some point in their lives. What if we could relieve anxiety around surgery and envision successful outcomes and comfortable recoveries? We believe it's possible to feel good about surgery.
Here are some additional remarkable surgery testimonials we've received from our users:
"My husband Gary had a huge hernia. He was scheduled to take four weeks off work. The Infratonic was sitting on the porch when I brought him home from surgery. I slapped it on him. 'You're gonna be living with this thing.' He used it night and day, right over the surgery site, over the incision. After four days, he was able to go back to work. Two weeks later, during the surgical followup, the doctor said, 'This is looking really good for four weeks.' Gary said, 'It's only been two weeks.' The doctor said, 'What?!' Swelling and bruising were never even a problem."
– Barbara Ford, Mocksville, NC
"I found after two surgeries (a hysterectomy and repair of tennis elbow) that my recovery time was much shorter than others who had the same surgeries. I was back at work three weeks after the hysterectomy and after one week in a cast, my elbow had full range of motion."
– Luann Lee, Hutchinson, KS
"I am very happy with my Infratonic. I have a dog recovering from several recent surgeries and I even use it with him. I have noticed he healed more quickly after surgery with the Infratonic than he did after previous surgeries without using the device."
– Cindi Croley, Sun City, AZ
"I had three molars extracted in my teeth. I used the Infratonic 9 just immediately after I got home. I used it for half an hour two or three times that day. I didn't have any pain at all. My gums healed up real quick. But the biggest thing was I didn't have any pain! I told the doctor about it and he didn't believe it. Hey, when you've got three teeth pulled like that, you're supposed to be in a great deal of pain. Another friend of mine had his tooth pulled and his face was painful and swollen on one side. I guess it was two days later that he'd told me about it. I left him one of my units. Within a day and a half, the swelling went down and the pain was gone."
– John Nebera, Louisville, KY