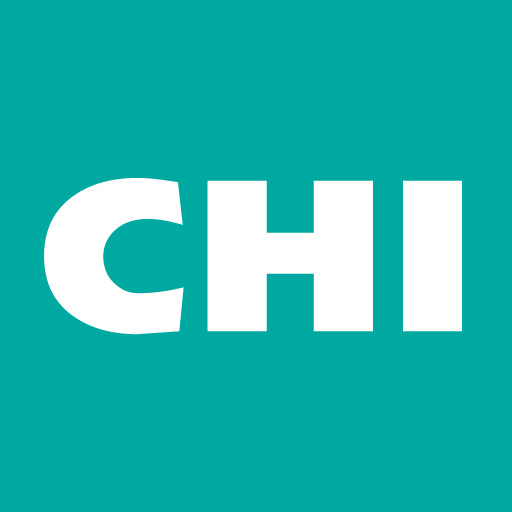 The first Infratonic was developed when a nephew of Prof. Lu YanFang, a healer, walked into the National Institute of Electro-Acoustics in Beijing and asked Prof. Lu to measure the vibration of his hand when he was emitting vital energy. She discovered that his hand produced a strong acoustical signal. Several other healers (called Qi-Gong Masters in China) were measured and produced similar signals. The first device of this kind was built by the Institute of Electro-Acoustics and proved effective at reducing pain and aiding in recovery in a wide variety of conditions. The initial prototypes were tested in hospitals and clinics found success with bleeding, pulmonary and digestive infection, immune response, and a host of other conditions.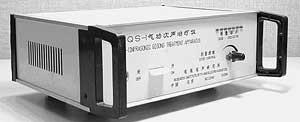 After trial and error of misfunctioning machines and manufacturers. Richard Lee and the CHI Team worked hard to make the units more reliable and effective.
Fun fact: The earliest QGMs have no cradle on the top of the electronics box to hold the transducer head!!
Signal Setting: Low, Medium High
The Infratonic Chaos brought a big improvement in the effectiveness of the early QGM. Chaotic carrier wave is introduced for much higher signal penetration and more precise signal bandwidth.
The Chaos unit can be identified by the distinctive Flag on the panel.
Signal Setting: Low, Medium, High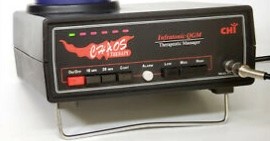 Our Infrasound 8 is a white unit with a transducer handle. Not only did we bring Chaotic therapy to this model but also included Linear Pulse Modulation which allows the diaphragm to flow with with the sound instead of abruptly stopping.
Signal Settings: 1, 2, 3
Our Infratonic 8 is much like our Infrasound 8 but black. One was meant for Doctors/Practitioners and the other color was for our regular clients. Can you guess which color belongs where?
Signal Setting: Body, Mind, Spirit
Infratonic 8,000, Soni Calm 3 and Soni Calm PM
Infratonic 8,000 brings the most up to date technology. Using not only the Linear Pulse Modulation, Chaotic Therapy but it also brings in ultrasound waves.
Signal Setting: Sleep, Pain Full
Soni Calm 3 is a white model that has a much smaller transducer handle, it fits perfectly in the palm of your hands!
Signal Setting: Calm, Medium, Deep
Soni Calm PM has combined all settings into one, making it easy to flip the switch and put it where it hurts.
Mobile Medic or Mobile Magic
Our Mobile Medic (Mobile Magic was the first generation, we changed the name and manufacturer) uses all the signals in one setting. This is our first shot at a mobile device!
Our latest and up to date model, Infratonic 9, is mobile! Using the Linear Pulse Modulation and Chaotic therapy, each setting focuses on a different wave length to provide you the healing power needed.
Signal Setting: Balance, Acute, Deep Calm