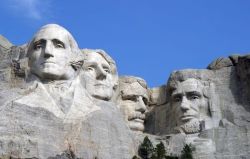 Self-Care is the Only Pathway to Enhance your Human Experience
President Trump claims his administration is "of the people, by the people, and for the people". Is this true? We will not know for decades whether his policies and activities represent us or represent corruption and corporate profits. Just in case he honestly means what he claims, I have delivered this message to him encouraging him to put the well-being of the American People first. Please forgive my praise of his speech. If we want the attention of our leaders, we must encourage them, plus, I really did enjoy that speech and the last half showed the best 4th of July fireworks.
Dear President Trump,
Your inspiring speech at Mt Rushmore will go down in history! Thank you!
A Big Problem that needs your attention: The billionaires are getting rich at the expense of the People of America. Most industrialists take advantage of the American People. I hope to reframe it in one paragraph:
You proposed a solid answer to COVID-19: Hydroxychloroquine and sunlight (Vitamin D). This might have greatly dropped the contagion rate and largely eliminated the COVID-19 pandemic in America. Fake news largely blocked your efforts. However, the word has spread so you have supported a foundation for us to maintain a strong immune system against flu viruses in the future, which will mean sustained productivity of our economy throughout the winter. Meanwhile many industrialists offer expensive and largely useless COVID answers to get richer at the expense of the public. Mercola was the most popular self-care site on the internet until Google virtually eliminated web access to his pages. He wrote an article speaking of these injustices of billionaires getting richer from the pandemic*, in which, you may read here.
Pharmaceuticals and vaccines often damage the human immune system. So does the processed food industry. These highly promoted profit centers also decrease the IQ of the American People while corporations make huge profits selling expensive drugs and empty calories. Intelligent, immune-enhancing self-care like Vitamin D, Hydroxychloroquine, and fresh produce benefit the people but damage corporate profits so, unfortunately, are violently opposed.
SELF-CARE is the only way forward that truly benefits the American People. PLEASE START A SELF-CARE TASK FORCE, and work toward building a better America through making every American healthier, stronger, more able, more optimistic, and more intelligent. Our government needs to be fully Of the People, By the People, and For the People.
Sincere Thanks,
Richard Lee
* Mercola, J. "Who Is Getting Rich Of Coronavirus Pandemic?" Retrieved July 8th, 2020, from https://articles.mercola.com/sites/articles/archive/2020/07/07/billionaires-getting-rich-off-coronavirus-pandemic.aspx