CHI Palm (Infratonic 11) Pre-Release
$695.00
New and Improved Infratonic
Pre-Orders are live! All orders placed before November 18th will receive their CHI Palm in December. All orders placed after, indications point towards shipping out in 2021. We are sorry for the inconvenience this may cause, we are working hard with our manufacturers and shipping to get the CHI Palm in your hand. Thank you for your understanding. 
Our CHI Palm (Infratonic 11) is our newest device that brings the Infratonic Chaos Therapy with lower frequencies, more powerful signals, and better ergonomics than ever before! The CHI Palm provides a slice of Western science with the backing of ancient Chinese tradition by providing powerful signals for pain relief, accelerated recovery, increase hyaluronic acid production, and dissolving of stagnant energies in the Vital Field.
Our CHI Palm is an FDA-listed therapeutic massager that provides unpredictable sound wave frequencies to reduce pain and inflammation, promote circulation, and relax stress fast.
Experience a drug free and non-invasive treatment that will help you relieve pain, unwind, elevate your mood and Enhance your Human Experience. Battery powered and cord-free, with up to 80-100 hours of use per 3 hour charge.
All of our devices come with a 30 day money back guarantee
Pre-Release Policy:
All indications point to shipping the CHI Palm out in mid December if ordered before November 18th. All orders after November 18th, will be shipped out in 2021. We will update you if anything is to change. We stand by our products, honoring the 30-day money back guarantee beginning when we ship the unit out to you. Each purchaser will receive an emailed invoice upon purchase. A tracking number will be emailed when the unit is being shipped out. The Pre-Orders are on a first come order base, meaning that we will ship the CHI Palms out in the order we receive them. We wish we had the CHI Palms in our hands and we are sorry for any inconvenience this may cause. We are working hard with our manufacturer and shipping to get the CHI Palms out you as fast as we can. Please contact us via 1.800.682.7061 or send an email to support@chi.us if you have any further questions.
In stock
Description
All indications point towards the first batch to arrive Mid-December! All orders placed after November 18th, 2020 will receive their device in 2021.
The CHI Palm (Infratonic 11) is coming. We have been working for four years to present this to you, our Tribe! Be the first on your block, or even in your state or country to enjoy the new CHI Palm.
The CHI Palm is our newest Infratonic technology. Beginning in the mid 1980s, a research  program in China measured the output from the hands of natural healers. Then to determine if the signal could heal the way natural healers do, they replicated it by machine and tested it in Chinese hospitals. The research was highly successful. Since 1987 CHI Institute has dived deeper and deeper into the potentials of this technology. 30 years of research, questions, roadblocks and breakthroughs; our CHI Palm presents the newest technology to the modern world.
The CHI Palm (Infratonic 11) is an FDA-listed therapeutic massager that provides unpredictable sound wave frequencies to reduce pain and inflammation, promote circulation, and relax stress fast.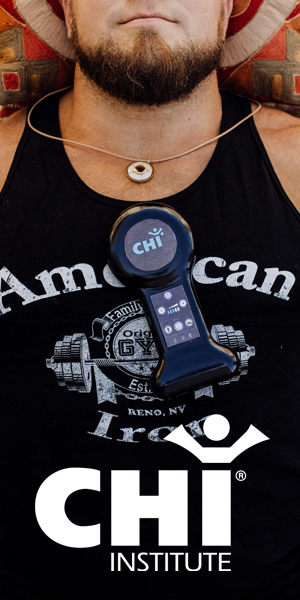 Improvements with the CHI Palm
Ergonomic design
Easily replaceable, rechargeable battery.
Lithium-Ion power provides 80 to 100 hours of use with single charge.
Most effective, dependable, and powerful Infratonic motor/generator.
Easily varied intensity for all people and ailments.
Externally charged battery option so you can carry a spare
Breathgrough rejuvenizing magnetic vortex reverses aging locally.
Acupoint sludgebuster removes oxidative pollution from inflamed tissues.
Piezoelectric, magnetic, and gravitational crystal integrates consciousness.
New electrostatic nano-signals for accessing unconscious reactivity.
Frequently Asked Questions:
How can Chaos Therapy be so effective?
The key to the effectiveness for Chaos Therapy lies in the way it changes the behavior of cells from rebellious production of excess inflammatory chemicals (a scream for help) to cooperative behavior: producing the needed chemicals to accelerate recovery. When the inflammation stops, pain disappears and healing accelerates. It achieves this by infusing the inflamed tissue with soothing but unpredictable signals which break up old dysfunctional behavior patterns.
The NEW CHI Palm carries this much further, bringing other breakthrough Qigong science research into technology and extraordinary new effectiveness.
Can I easily fit The CHI Palm into my already busy life?
Our CHI Palm was designed for ease of use and convenience due to its small, light ergonomic design and straightforward application. Turn it on and hold it against wherever you are experiencing pain. You can also place in a pocket, strap it to an arm or a leg, or use our convenient positioning stand. Use your CHI Palm while you're sleeping. Put it under your pillow or even under your bed.It even works through a plaster cast and does not affect metal plates, pins, or staples. You can use your CHI Palm for quick 10-minute sessions anywhere, at home, at work, or on an airplane. Or take it with you to Africa, the Amazon, or the kids soccer game. It's up to you!
We often say, "Put it where it hurts!" because it quickly reduces inflammation and pain wherever you apply it. Just hold it on the pain for 10 minutes and you will usually experience a significant reduction in pain. Sometimes, where the condition is chronic, you will receive progressive improvement with several treatments. Try 20 minutes twice per day.
Can anyone in the family use this?
We encourage it! The CHI Palm is 100% non-invasive! You can use it on your animals, grandparents and kids!
We have received thousands of reports from happy owners of Infratonics who have found profound relief from a wide spectrum of ailments. They have reported virtually anything related to inflammation, pain, and accelerated recovery, often reporting success where all else has failed. Many have reported substantially reduced overall healthcare costs, particularly when faced with chronic pain and recovery from surgery and injury. We have organized their reports according to aliment.
Click here to see the results others got with similar aliments.
August 28, 2020
The first Infratonic was developed when a nephew of Prof. Lu YanFang, a healer, walked…
April 29, 2020
We get a lot of questions about our Infratonic tools, our Infratonic 9 and Equitonic…
April 6, 2020
Over the last 30 years we have put 100,000 Infratonics into service, relieving countless pains…
March 10, 2020
I just learned an amazing bit of trivia you can try out on your friends:…
February 7, 2020
From a scientist's perspective, the problem in the gut can be much broader than PMS.…
February 7, 2020
Most chronic abdominal pain is caused by old residual scar tissue and adhesions. After scar…
February 6, 2020
PMS is a pain. At least for me it is and for most women since…
December 24, 2019
Many years ago, around the holidays, my grandfather committed suicide during the Depression. This severely…
Additional information
| | |
| --- | --- |
| Weight | 1.075 lbs |
| Dimensions | 8.75 × 4.5 × 2 in |